Stop Worrying About Your Gear and Start Enjoying the Adventure!
There are times when you need your backpack to keep up with your adventures. Times when you need 100% focus on what you are doing. No compromise. No worrying about your gear staying safe. And then, when it is done and finished, you need a dry t-shirt to change into and your camera to work, no matter what happened. Traveling, surfing, kayaking, stand up paddling, trekking, hiking, fishing… it does not matter. Don't let the rain and dust hold you back. We have all been there. Thinking: "Is the rain to strong? Will it get through? Should I put my camera in an extra plastic bag? What about my clothes? What if a wave splashes my bag? What if it falls into the sea? What if sand gets in?" The time has come for you to stop worrying and start enjoying your adventures no what mother nature throws at you. DryTide waterproof backpack will keep all your gear dry no matter the weather, even if you literally drop it into the sea.
Introducing the DryTide Waterproof Backpack
DryTide waterproof backpack is the only backpack that combines the usefulness, versatility and comfort of regular backpacks with waterproof capabilities of dry bags while still looking stylish. It offers protection beyond the usual "waterproof" tag which these days can mean many different things. This backpack is made out of 100% waterproof material using 100% waterproof construction technique. Things inside the DryTide waterproof backpack will not only stay dry during a quick rain shower but also in much heavier conditions like long and heavy torrential rainstorms, during various water sports, they will survive a fall into the sea or even a shorter submersion. With all this, DryTide backpack is still a proper backpack with pockets and compartments to organize your things and all the features that make carrying a backpack comfortable.
This all started on a surf trip…
My name is Klemen and I am the founder of DryTide. To say I am passionate about outdoors and especially surfing would be putting it very mildly. It's my life. I came in contact with dry bags when I started making two day stand up padding trips to hidden bays and islands in the Adriatic sea. A short paddle trip doesn't require much but if you make it a two day trip you will need clothes, food, camping gear…things that can not get wet. So dry bags came in very handy. Later I started making surf trips to remote places in Indonesia. Tropical rainstorms can come out of nowhere, it can rain when you step out of the plane, when your backpack is in the back of a pickup truck on the way to the ferry, when you are riding your scooter, or when you are trekking through the jungle. A regular backpack is great for carrying your gear while traveling, but there was a constant worry in the back of my head, what if it rains, what if my belongings get wet?
And don't think they didn't :). The worst example I can give you was watching my belongings float around our sinking outrigger boat in the middle of a lonely Sumatran lineup. So for the boat rides I carried additional dry bags to put my gear into, but there were tho huge things missing.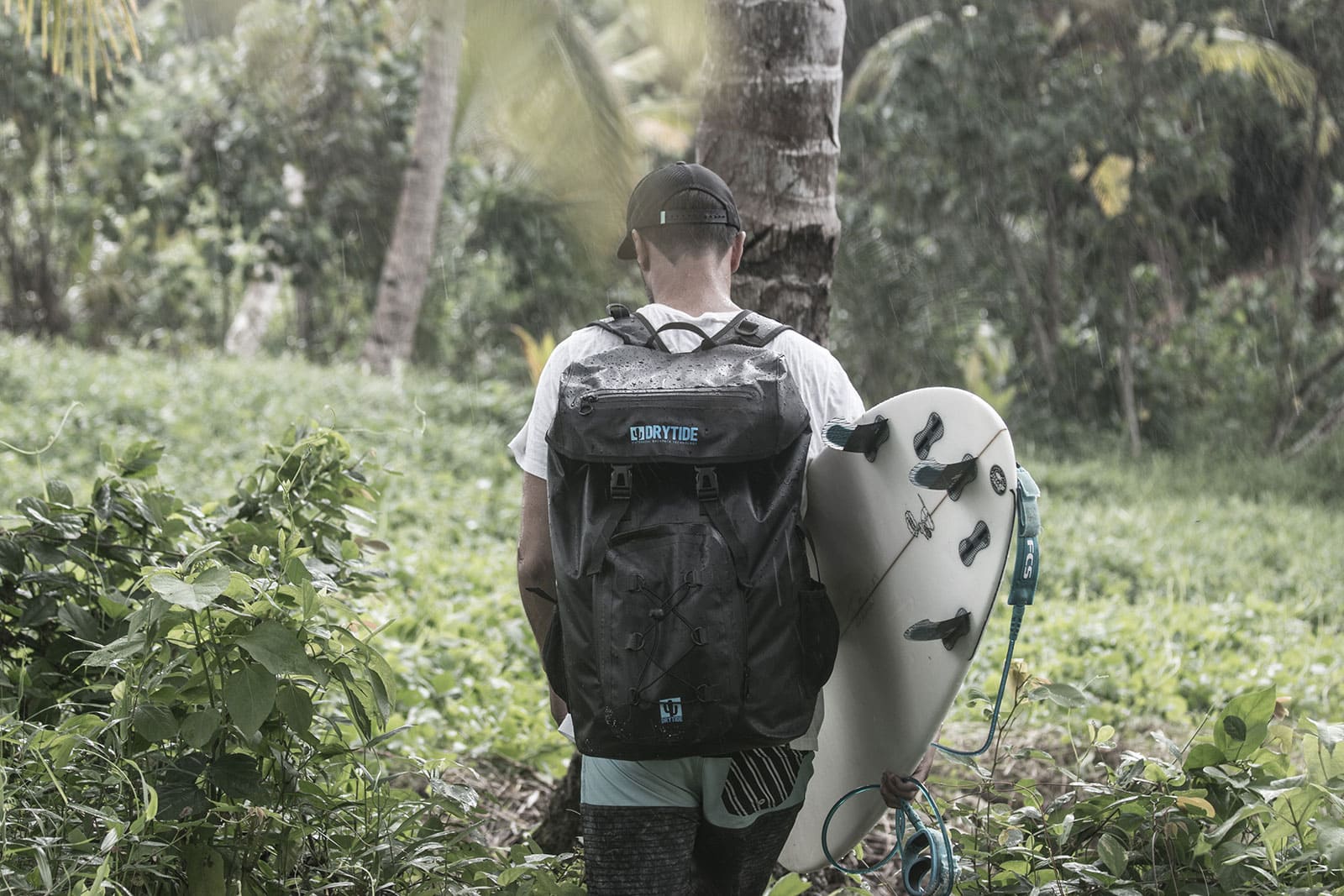 First, a dry bag is a pain to carry around! It is ok when you have to carry it a short way from the boat to the beach, but for anything more it is really really uncomfortable. Even if it has straps these cut into your shoulders as soon as you are carrying more that just a towel. And second, dry bags lack pockets to organize your things. Keys, cameras, phones, wallets, sunscreen, surf wax, glasses, power bars… they all seem to always end up on the very bottom of the bag and I have spend half of my time blindly fishing with my hand at the bottom of the bag hoping to catch what I am looking for.
On the other hand a regular backpacks, even when made out of waterproof material, will get wet when things get extreme. Stitches and zippers is where the water will eventually get in. I used to put all my clothes and gadgets into plastic bags and then into my backpack but even then you are out of luck if your backpack falls over the edge of the boat and lands into the sea.
After that last shipwreck situation I had one of those "it has to be a better way" moments. Couldn't there be an all in one solution to this? The idea of developing a waterproof backpack that you can use while traveling and for all you water adventures came to my mind. After lots of searching and finding nothing really useful I decided to design one myself. DryTide waterproof backpack was born.
DryTide Waterproof Backpack
Heavy-duty and 100% waterproof material
High frequency welded seams, no stitches in all vital areas
Floats on water
Big 50l waterproof main compartment
Internal removable laptop pocket with mesh pocket for small items
Big back pocket with rainproof zipper
Smaller top pocket with rainproof zipper
Two side mesh pockets for water bottles
Two side straps for securing taller items to the side of the backpack
Elastic strap on the back pocket
Comfortable shoulder straps and back both padded with non water absorbing foam
Hip belt
Top handle
Bottom loop for drying the backpack
Backpack dimensions: 60 x 34 x 25cm
Suitable for your carry on backpack if you are traveling by plane
Enough room to pack everything you need for a few days
Keep all your gear safe from water and dust while looking good
DryTide Waterproof Backpack 50l
The ultimate waterproof backpack. No corners were cut here: lighter but still durable heavy duty material, ergonomically placed shoulder straps, side straps for attaching tall items to the side of the backpack. Can be thrown into the water! More here...
129,00 €Add to cart
DryTide Rainproof Backpack 50l
A more affordable version of the backpack that has everything that the waterproof version has, but will not protect your belongings if dropped into the water. Backpack can however withstand heavy rains without a problem. More here...
89,00 €Add to cart
DRYTIDE DRY BAGS ARE COMING SOON
YOU CAN PREORDER THEM NOW AND GET 20% EARLY BIRD DISCOUNT
DryTide Whale 30L Dry Bag
DryTide Whale 30 liter dry bag is the biggest dry bag in the range. It can serve as a dry bag or as  a waterproof backpack. With 30 liters of space it can easily fit two winter wetsuits together with gloves and booties with room to spare. Shoulder straps, external waterproof pocket! More here...
34,95 €Add to cart
DryTide Bear 15L Dry Bag
DryTide Bear 15 liter dry bag is right in the middle when it comes to size. With 15 liters of space it is still small enough so you can use it for extra protection and gear organization or to carry smaller personal items. At the same time it is big enough to fit two wetsuits and perfect size for a day trip to the beach.  More here...
19,95 €Add to cart
DryTide Seagull 5L Dry Bag
DryTide Seagull 5 liter dry bag protects your smaller personal items from water. Phone, car keys, wallet, documents, small snacks, GoPro, powerbank, sunglasses, t-shirt, bluetooth speaker… Bag can also fit a DSLR sized camera together with one zoom lens or DJI Mavic Pro sized drone with controller.   More here...
14,95 €Add to cart
Reviews: What Others Say About DryTide
"I recently went on a 6 week surf trip with my DryTide backpack and I have to say I couldn't be more pleased with the performance of the backpack. I packed around 15 kg of stuff in the backpack and it felt comfortable to carry and everything stayed dry throughout the trip, despite at times hazardous circumstances. I also recieved numerous compliments regarding the aesthetic design of the backpack. Would definitely recommend the DryTide backpack to others interested in off-the-beaten-path travel."
VILJAM, Finland
"We field tested these bags for well over 12 months and are super stoked. These are one of the best value waterproof bags on the planet!"
CAST Magazine
"I've been super happy with DryTide's waterproof backpack. It's a very sturdy bag and it has more than enough room to pack for any trip I'll take. I also like how comfortable it is because I usually carry it on long hikes."
RICHARD, USA
"With this bag, no compromise is needed as it will give the extreme backpacker everything they need for their adventure."
GLOBO Surf
"I'm so happy I bought my DryTide bag! I work in the jungle, so that backpack is always with me, and its life is not easy:) ...hiking, kayaking, or just taking the rain at the back of the pickup truck. The size is a little too big for my daily travels, but perfect for weekends or even 5 days expeditions. It surprised me pleasantly that the shoulder straps are comfortable, even being a woman with not such broad shoulders. The side mesh pockets are just a bit too tight to fit Nalgene bottles, but I absolutely love the front pocket."
ANNA, Spain
"This DryTide bag is perfect for not only keeping your gear dry but also keep it free of the Australian outback dust. It really is a great bit of kit and we're loving it."
TRAVERSE motor bike magazine