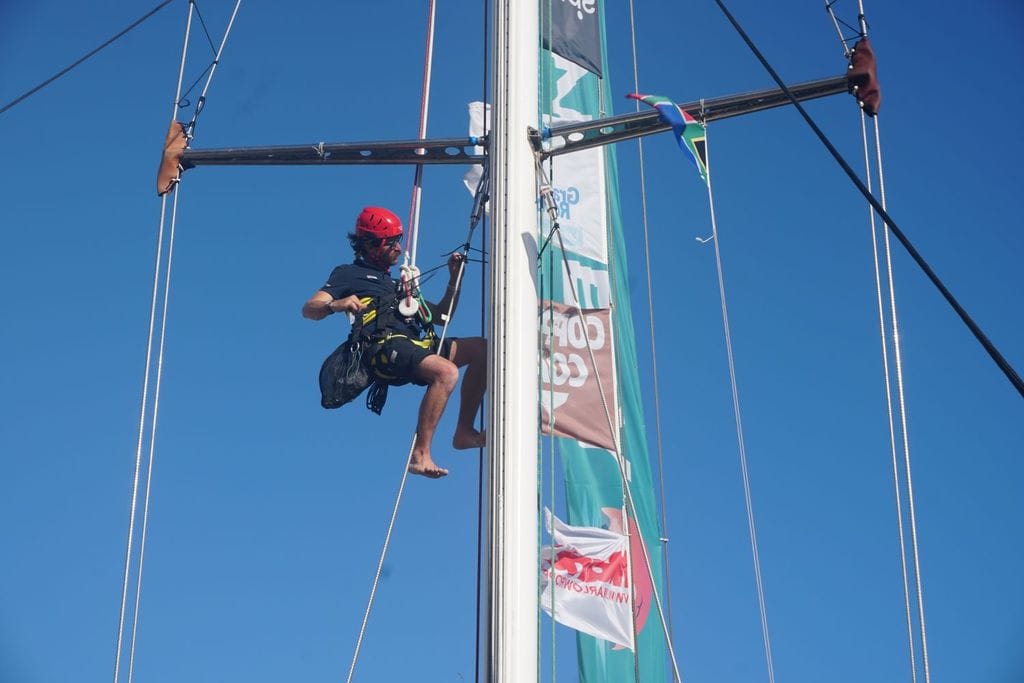 Hi Hugo, can you first introduce yourself to our readers?
I'm Hugo, 30yo, I grew up in the south of France, in the Pyrenees, close to Spain and far away from the ocean. I used to be much more a ski and kayak person, sharing my time between mountain activities and studying economics to get into a business school.
What sparked your interest in sailing? Can you describe your first time?
I did a few sailing camps on small dinghies as kid during summer with my grandparents in the Mediterranean. But it's only when I got into the sailing association of the Business School where I studied that I realized I could be much more into sailing than I thought. We were renting boats for a day, then for a weekend, then for a week. I started to get more confidence as skipper and other universities organizing similar events started to invite me to skipper some of their boats. I discovered the cruising side of sailing, the freedom of moving around with your apartment on your back. Meeting new people, exploring new places, all this pushed by the winds, I was hooked.
How did you decide you wanted to focus your life on sailing?
During and after my studies, I always kept sailing as a side job. In fact I haven't really taken any holidays since I graduated. If I wasn't working, I was working as skipper or delivering boats. Really often my skipper jobs were not even paid since I had no sailing certificates, but I would get my flights and expenses paid plus sometimes some tips. Skippering was my way to be on the water and sail "for free".
I got given an old boat (that I exchanged for a beer in fact, see the story here) when I was in university. I was living on it most of the time, and sailing her on small passages, but also spending lot's of time fixing her. She had been abandoned for several years at the dock and lot's of work (and money) was required to have her running properly. But I had not enough money, so I went to work, I worked for the UN abroad for a few years and in 2017, I quit to come back to France and my boat. Started an 8 month intense refit, I completely dismantled the boat and put her back together (see the whole refit videos here).
My goal was to cross the Atlantic with her and in March 2018 I was landing in Martinique after a 31 days passage together with my dad (video of the crossing here). Without knowing it, I had tied myself to the ocean, it was a while that I liked sailing and being on the water, but the more I was staying on my boat the more I realized that I wanted more.
Give us an example of your perfect sailing day?
"Even a bad day at sea beats a good day in the office" they say. Well sure, except when the boat is your office. So while cruising, a perfect day would be a nice beam reach sail with just enough wind and swell to power up the boat but still allow comfortable life onboard, then reaching a nice anchorage and enjoy sunset with friends. I'm lucky enough to say I had many of those days! Here is an example!
Now if we talk about racing, then it's without doubt a big downwind surfing session. With 20/25 kts of wind at 130/140 TWA with a spinnaker up and blasting down the waves, that's pure adrenaline. Here is an example.
How would you describe the Mini Transat to someone who does not sail? How would you place this race into the world racing sailing scene?
The Mini Transat is the biggest offshore race on the smallest boats. Some call people sailing Mini 6.50 crazy, and maybe it's not entirely wrong. Imagine a 6.5 meters boat (21 ft) with no comfort at all, a sail to weight ratio only topped by day sailors like Australian 18 footers or sport catamarans. No communication but VHF (you can talk to the boats around you within 10 miles maximum… if there is any) during 2 to 3 weeks crossing, all by yourself.
Sounds appealing right? 🙂 Well it's the race that made most famous skippers, Ellen MacArthur, Loic Perron, Ian Lipinski…etc. It's a race to prove yourself as single handed offshore racer
Crossing the ocean on your own, not a lot of sleep, small boat, no assistance, no communication… it sounds demanding and dangerous. How do you deal with that? What does this race represent to you?
I have sailed on cruising boats a lot, on my small boat for fun and adventure or on big luxurious catamarans, as skipper, for work. I have raced with the Clipper Round the World Race, crossing the southern ocean on 70 ft powerful race boat. But nothing beats single handed racing. It's not about racing against your competitors, it's about racing against yourself. Sleep deprivation, lack of comfort, constant decision making, strategy, tactics, boat maintenance, weather… all this for extended periods of time. No sport can beat this level of intensity and involvement.
I enrolled into the Mini 6.50 circuit to know myself better, to see how far I can push my own limits and become a better sailor.
Small boat, big sea…since we make waterproof bags and backpacks, I have to ask, how wet does it get on and inside the boat?:)
Well I am lucky to have a scow boat, meaning  that on a normal day, the boat isn't too wet, since the rounded bow deflects most of the water, but on a bad day it can get pretty wet, and that's why it's important to be able to rely on your waterproof bag  and backpack to keep important gears dry, when all the rest is wet.
It only take one wave to get your radio (with which you get the weather forecast once a day) or your gas burner (with which you boil water every day to eat your freeze dried food) wet and put you in a really difficult situation.
Has sailing taught you to live a full life? How?
Once offshore, you are disconnected from the world, no phone, no internet. Your existence becomes really simple in a way: keep the boat afloat and yourself alive. It can sound difficult or complicated, but in a way it's only technical, eat, sleep, sail, overcome what the ocean throws at you. Once you reach your destination, it's the best feeling to know that you, and only you, managed to deal with all this and bring yourself to port.
Where can we follow your adventures?
Here is my Youtube channel: https://www.youtube.com/c/TheSailingFrenchman
Facebook page: https://www.facebook.com/TheSailingFrenchman/
And my Instagram: https://www.instagram.com/thesailingfrenchman/